Agricultural Economics Glossary
Preface
Both students and teachers of agricultural economics are concerned with the application of economic principles for the
purpose of resource mobilization and allocation in the agricultural sector. Therefore, the major subject areas of
interest for an agricultural economist include macroeconomics, microeconomics, production economics, econometrics, agricultural marketing, agribusiness management, farm management and accounting, agricultural finance, project appraisal analysis and planning, cooperative economics, mathematics and statistics, and other allied social science subject matter. With all these fields of study coupled with other disciplines in agriculture, an agricultural economist is constantly exposed to several theories, concepts, terms,
definitions, laws and -theorems of economics.
This book, therefore, is a compendium that is intended to provide first
hand and quick reference material to both the students and teachers of agricultural economics. It contains over one
thousand four hundred words from various economic subject areas. The intention therefore, is to put in the hands of readers
a companion document that would be useful at all times. Ideas presented in this book are derived from many relevant
reference materials, both text books and related web pages. It is not by any mean a substitute to text books in the relevant
and respective fields of study but efforts have been made to explain difficult terminologies to the understanding -and
comprehension ofpersons who may want to consult the book.
PROF. EDET JOSHUA UDOH
Department of Agricultural Economics and Extension
University of Uyo, Uyo
Akwa lbom State, Nigeria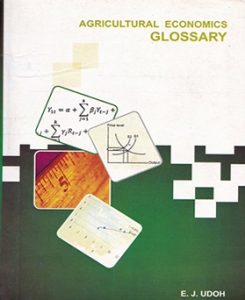 About The Book
This book contains concepts, theories, laws, hypotheses and definitions that are frequently encountered by both teachers and students of agricultural economics.
The issues have been simplified and presented alphabetically fr easy understanding and reference. It is a book that every teacher and student of agriculture economics must have. Also, teachers and students in relevant disciplines of agriculture and social sciences would find it very useful in understanding agricultural economics terminologies.
Land Management and Resource-Use Efficiency among Farmers in South-Eastern Nigeria
Preface
This book titled "Land Management and Resource Use Efficiency among Farmers in South-Eastern Nigeria" is a reproduction of a research paper forwarded to Royal Institute of Chartered Surveyors (RICS) Foundation and African Real Estate Society (AFRES) in response to an international advertised competition requesting for research works on land management in Africa (Appendix I).
Although the brochure leaflet containing the advertised information was received only one week before the closing date, we hurriedly put the research paper together and posted it by special delivery mail.
It was a great joy, however, on receiving letters — months later — that our research Paper was declared the best (Appendix II) and carried a prize of £1 ,000 (one thousand British pounds) to be shared equally by two of us, a certificate each and that the official announcement of the award would be made at the conference of the African Real Estate Society, in Arusha, Tanzania, on 23-
25 October, 2001.
We were happy, as stated earlier not so much because of the money, certificates and the official announcement but because of the high calibre of the distinguished international scholars and professioners who selected our paper as the best.
The main objective of this research paper being published as a book is to give it a wider readership among professioners and researchers – particularly students in tertiary institutions both within and outside Nigeria.
In hurriedly putting this piece of work together, many individuals rendered one assistance or the other. We are deeply grateful to them all. However, the following are singled out for their special contributions and assistance. Dr. Titus Omonona, our Ph.D post-graduate students: Abdul-Ganiyu Ibrahim, Tunji Kehinde and Apata. Also, we are very grateful to our Departmental computer
operators: Mrs Yemisi Oluwagbemiro, Mrs Wumi Kuforiji and Mrs Sumbo Olaoye for painstakingly assisting us during and late alter the official closing period of work.
We would like to point out, however, that the views expressed in this book are those of the authors alone and should not be attributed to anyone else.
Edet J. Udoh | Jacob O. Akintola
December 2001.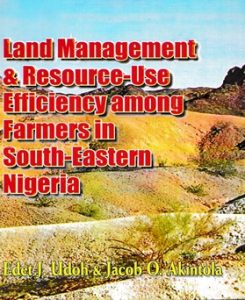 Content
Introduction/Research Problem
Conceptual Framework/Literature Review
Methodology
The Study Area
Data source and Collection Procedure
Analytical Procedure and Techniques
Production Function Analysis
Measurement of Short-run Sustainability Index (SRSI)
Basic Assumption of the Estimation
Regression Model Specification
Description of the Variables
Endogenous Variables
Exogenous Variables
Results and Discussion
Socio-Economic Characteristics of the Farmers and Pattern of Landuse and Management
Analysis of Stochastic Frontier Estimation
Production Elasticities
– Farmland
– Labour
– Material
– Migrant Status
– Crop Diversification Index
– Nutrient Intake Index
– Length of Fallow
– Fertilization
– Drainage
Interactions of Physical Inputs
– Land and Labour
– Land and Material
Interaction of Physical Inputs and Land Use Variable
– Land and Nutrient Intake Index
– Labour and Nutrient Intake Index
– Migrant Status and Nutrient Intake Index
– Material and Crop Diversification
Interaction of Physical Input and Land Management Variables
– Land and Level of Tillage
Interaction of Land Use Variables and Management Variable
– Nutrient Intake Index and Fertilization
– Diversification Index and Length of Fallow
Interaction of Land Resource Quality Variable
– Drainage and Terrace
Interaction of Land Management Variable and Land Quality Variable
– Level of Tillage and Terrace
– Length ofTillage and Drainage
Interaction among Land Use Variables
– Diversification Index and Nutrient Intake Index
– Sustainable Land Use and Management Index
– Short-Run Sustainable Index
Production Elasticities and Marginal Productivities of the Physical Inputs under Different Environments
Economic and Environmental Implications of the Major Findings
Conclusion /Recommendations
Understanding the Nigerian Environment
CONTENTS
Chapter 1
OVERVIEWOF THENIGERIANENVIRONMENT
Ubong E.Harrison PhD & Iberedem E.Uko
Chapter 2
ENVIRONMENTAL IMPACT ASSESSMENT (EIA) IN NIGERIA
Edem E. Esara PhD
Chapter 3
SOILS AND LANDFORMS IN NIGERIA
Samuel U. Ukata PhD
Chapter 4
SOIL EROSION AND LAND DEGRADATION IN NIGERIA
Uquetan I. Uquetan PhD
Chapter 5
DRAINAGE IN NIGERIA
Joel Efiong PhD
Chapter 6
POPULATION GROWTH AND DISTRIBUTION IN NIGERIA
Elizabeth E.Andrew-Essien, Ph.D
Chapter 7
AQUATIC RESOURCES IN NIGERIA
Justin A. Akankali PhD & Ibienebo C. Davies
Chapter 8
DIVERSITY OF ANIMALS IN NIGERIA
Joy Eko Atu PhD
Chapter 9
DIVERSITY OF PLANTS IN NIGERIA
Samuel R. Osu, PhD and Jonathan O. Ekanem
Chapter 10
DEFORESTATION IN NIGERIA
Raphael Offiong PhD
Chapter 11
CLIMATE CHANGE IN NIGERIA
Professor Imo J. Ekpoh
Chapter 12
DESERTIFICATION AND DESERT ENCROACHMENT IN NIGERIA
Margaret Abba Yaro PhD and Ukpali Obongha
Chapter 13
WASTE MANAGEMENT IN NIGERIA
Benedict Eka PhD
Chapter 14
TOURISM IN NIGERIA
Asuquo Ekeng Ita PhD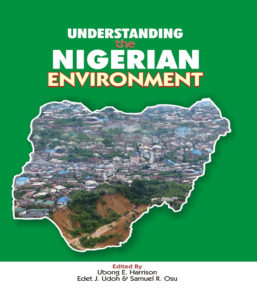 Published by
Nucleusmark Development Institute
In Association with
MEF (NIGERIA) LTD
Adaptation to Climate Change Agricultural Ecosystems and Gender Dimensions
CONTENT
CHAPTER ONE: THE SETTING
CHAPTER TWO: WHAT DO WE KNOW ABOUT CLIMATE CHANGE ADAPTATION?
CHAPTER THREE: CONCEPTUALIZING CLIMATE CHANGE ADAPTATION
CHAPTER FOUR: FRAMEWORK FOR ANALYZING CLIMATE CHANGE ADAPTATION
CHAPTER FIVE: SITUATING CLIMATE CHANGE ADAPTATION STUDY
CHAPTER SIX: WHAT DATA FOR CLIMATE CHANGE ADAPTATION STUDY?
CHAPTER SEVEN: TRENDS IN CLIMATE CHANGE: WHAT THE DATA SAY
CHAPTER EIGHT: CLIMATE INFORMATION SOURCES AND ACCESSIBILITY
CHAPTER NINE: FARMER'S KNOWLEDGE OF CLIMATE CHANGE
CHAPTER TEN: CLIMATE CHANGE VULNERABILITY
CHAPTER ELEVEN: IMPACTS OF CLIMATE CHANGE
CHAPTER TWELVE: CLIMATE CHANGE ADAPTATION
CHAPTER THIRTEEN: ACTIONS FOR CLIMATE CHANGE ADAPTATION
PREFACE
In the past couple of decades, climate change and its impacts on developing nations have occupied the attention of Science and Policy Communities. However, while the science community in developed countries is advanced in climate change research, this area of study has only recently started receiving attention in the developing countries. Many such studies tend to Focus on only a select and
narrow issues in the climate change field.
This book is a product of over four years of empirical investigation of several aspects of climate change in the agricultural sector-the mainstay of the economies of most developing countries. The book draws empirical evidences from the Niger Delta region of Nigeria- a region widely known for its environmental, social and economic complexities. It begins by justifying why climate change investigation in developing countries is necessary, explains the concept of climate change adaptation and provides a framework for analyzing climate change adaptation. The book breaks new ground by providing the reader with the tools for developing index of farmers' Climate Change Knowledge as well as farmers' vulnerability to climate change. Also discussed are the impacts of climate change and adaptation approaches used by farmers and fishermen. Based on the real lite experience of those most affected by climate change in developing countries-farmers and fisherfolks, actions to enhance climate change adaptation are included.
Informed by the personal experiences of the authors, as researchers and practitioners of agriculture, that agricultural practice takes place in different types ot agro-ecosystems, the treatment of the subjects in the text is as they apply to upland and wetland farming systems and fishing environment. In addition, the gender dimensions of climate change is given due prominence.
The reader will find in this book comprehensive information on climate change, climate vulnerability, and climate change adaptation in the important agro-ecosystems. The book is therefore, recommended for students, teachers, researchers, environmentalists, policy makers, the civil society organizations and International Development Institutions interested in addressing the serious problem of climate change in developing countries in particular and the global level in general.
MEET THE AUTHORS
GABRIEL UMOH is a Professor of Agricultural and Development Economics at the University of Uyo, Nigeria. A two time Head of Department of Agricultural Economics and Extension and member of Senate, University of Uyo, Professor Umoh has been a Consultant to many national and international institutions including the World Bank, European Commission, USAID, UNDP, among others. He is the founder and Chief Executive Officer of an NGO-African Human Development Centre (AHDC) based in Uyo, Uyo – Nigeria.
EDET UDOH is a Professor of Agricultural Economics at the University of Uyo-Nigeria. Former Head of Department, Agricultural Economics and Extension, and former Acting Director Centre for Skills Acquisition and Rural Development University of Uyo, he is a consultant to many national and international institutions.
VALERIE SOLOMON is a Senior Lecturer in the Department of Agricultural Economics and Extension. Her research interests are in agricultural sociology, gender issues and climate change.
GLORY EDET is a Lecturer in Agricultural Economics and Extension, University of Uyo-Nigeria. Her research is in resource and environmental economics. She has served Akwa lbom State Government as Honourable Commissioner of Women Affairs and Social Development.
UWEM CLEMENT is a Lecturer in the Department of Agricultural Economics and Extension, University of Uyo, Uyo, Nigeria. He is an Agricultural Extensionist with interest in agricultural extension and communication. Uwem is currently a doctoral student in Michael Okpara University of Agriculture, Umudike, Nigeria.
GODWIN OKORO holds a PhD in Agricultural Extension. He is a Lecturer in the Department of Agricultural Economics and Extension University of Uyo, Uyo, Nigeria.
NKOYO BASSEY is a Lecturer in Agricultural Economics, Department of Agricultural Economics and Extension University of Uyo, Uyo, Nigeria. She is a doctoral student in the Department of Agricultural Economics University
of Ibadan, Nigeria.
OBOT DOMINIC holds PhD in Agricultural Economics and works as a Programme Staff in African Human Development Centre (AHDC), Uyo-Nigeria.
ELIZABETH ATAIRET is a doctoral student in the Department of Agricultural Economics and Extension University of Uyo, Nigeria.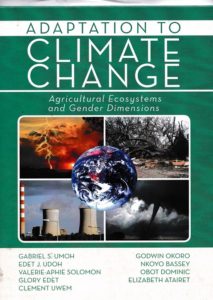 About the Book
The book: ADAPTATION TO CLIMATE CHANGE: Agricultural Ecosystems and Gender Dimensions is a product of over four years of painstaking and rigorous research by a multidisciplinary team. it brings together empirical knowledge on farmer's adaptation to climate change in a developing country. The book is comprehensive as well as broad in its coverage. Detailed analysis of various dimensions of climate change on dryland and wetland agriculture as well as fishing sector is presented from developing country's perspectives. The book is made of thirteen chapters. The first Chapter provides the setting of the climate change research environment wherein the rationale, objectives and scope of climate change investigation are discussed. Chapter two provides an update of climate change adaptation research while the third chapter discusses the framework for analyzing climate change. The authors used their rich backgrounds in social science, gender and agricultural economics and extension research to present their experiences in collecting and analyzing climate change data in real lite situation in chapter four.
The empirical evidence of trends in climate change. climate change information sources to farmers and fisherfolks. their knowledge level and vulnerability to climate change impacts are discussed in chapters five, six, seven. eight and nine. Chapter ten of the book looks at the impact of climate variability and long term change while adaptation to climate change is discussed in the eleventh chapter. The final chapter contains actions for climate change adaptation in developing country's setting. The actions for climate change adaption are not only useful for policy but are as well actionable. The book is, therefore, a must for those genuinely interested in addressing the growing problem of climate change impacts in the most vulnerable section of the world the developing countries.